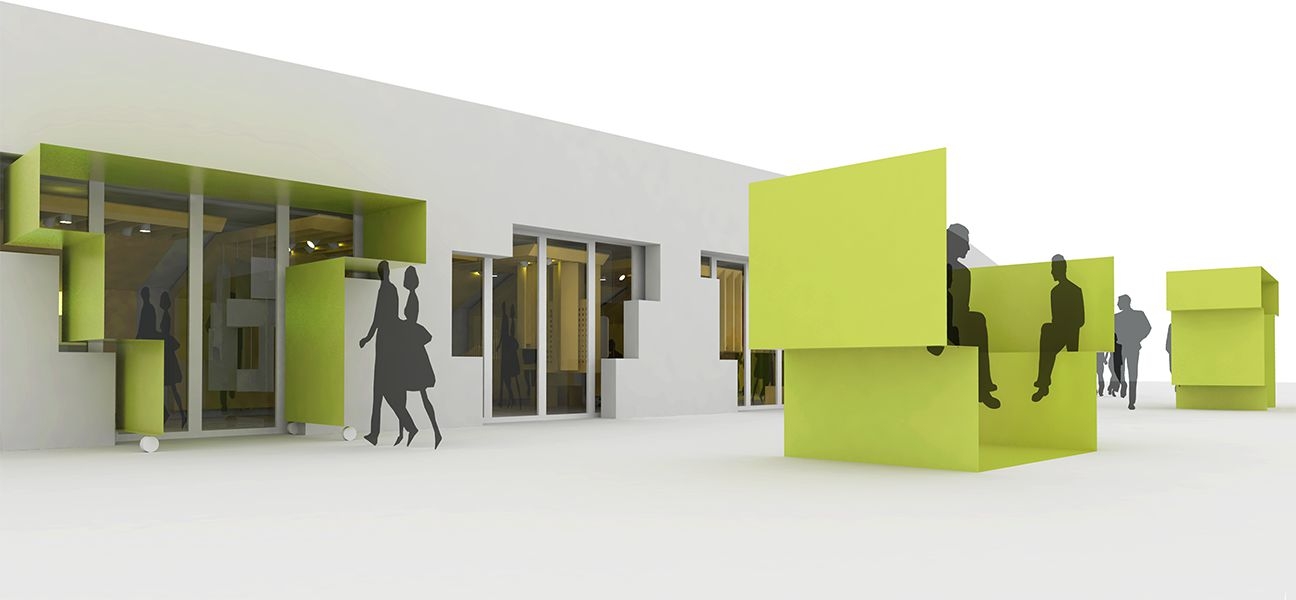 Competition Osaka 9 Pavillon Concept
Exhibition design for the "Osaka 9" pavilion at HafenCity Hamburg.
The extraordinary situation on-site with a long stretched and narrow room, integrated in the harbour boardwalk was the starting point. The linear sequence passes through the individual layers and the spatial typology of a group of modules translates into the zones of the exhibition.
Competition – 2nd place – not realized
Type: Interior Design
Services: Exhibition Design
Realized: September 2011
Industry: Urban Development
Client: HafenCity Hamburg GmbH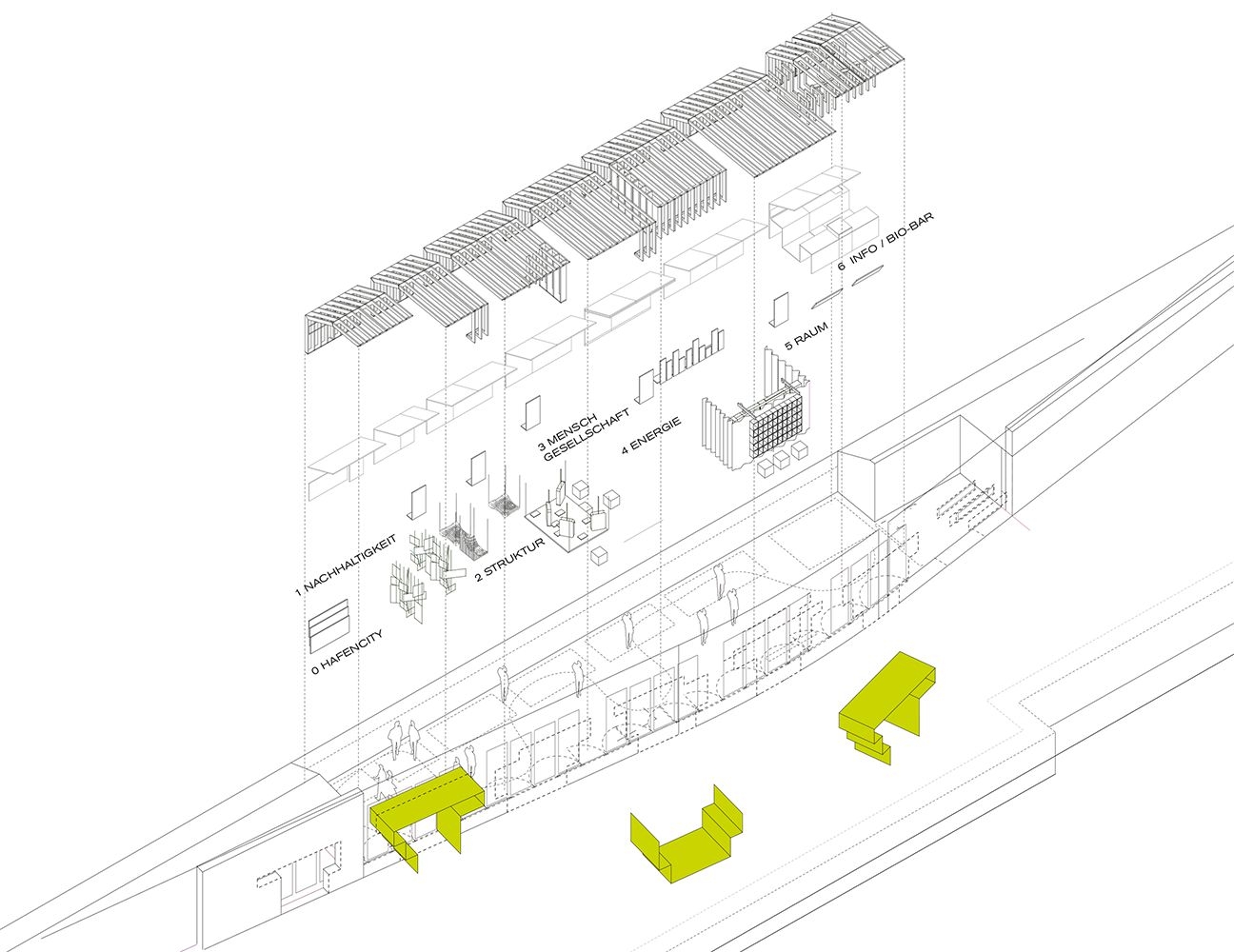 Every module is designed to fulfill the specific requirements for each topic. Wall panels are mounted in the back of the room and stretches all the way up to the ceiling. The wall panels transform into a frame hanging out over the room, from where different media can be hanged. The spaces can also temporarily be demarcated, so that the exhibition can proceed as usual while for instance a lecture is held.
This allows for maximum utilisation of the spaces and according to the diversity and density of the topics presented, further surfaces in addition to the back wall can be activated. Through variable utilisation of the facade oriented surface, a multi-layered communication between interior and exterior space is generated.
In those areas where the windows are opening the structure is recede, whereas at the height of the pillars, it reaches all the way over and closes on to the facade.
The idea of sustainability is continued in the design of the space. The exhibition is not only designed to address issues regarding sustainability, but also be a representative example of sustainable construction.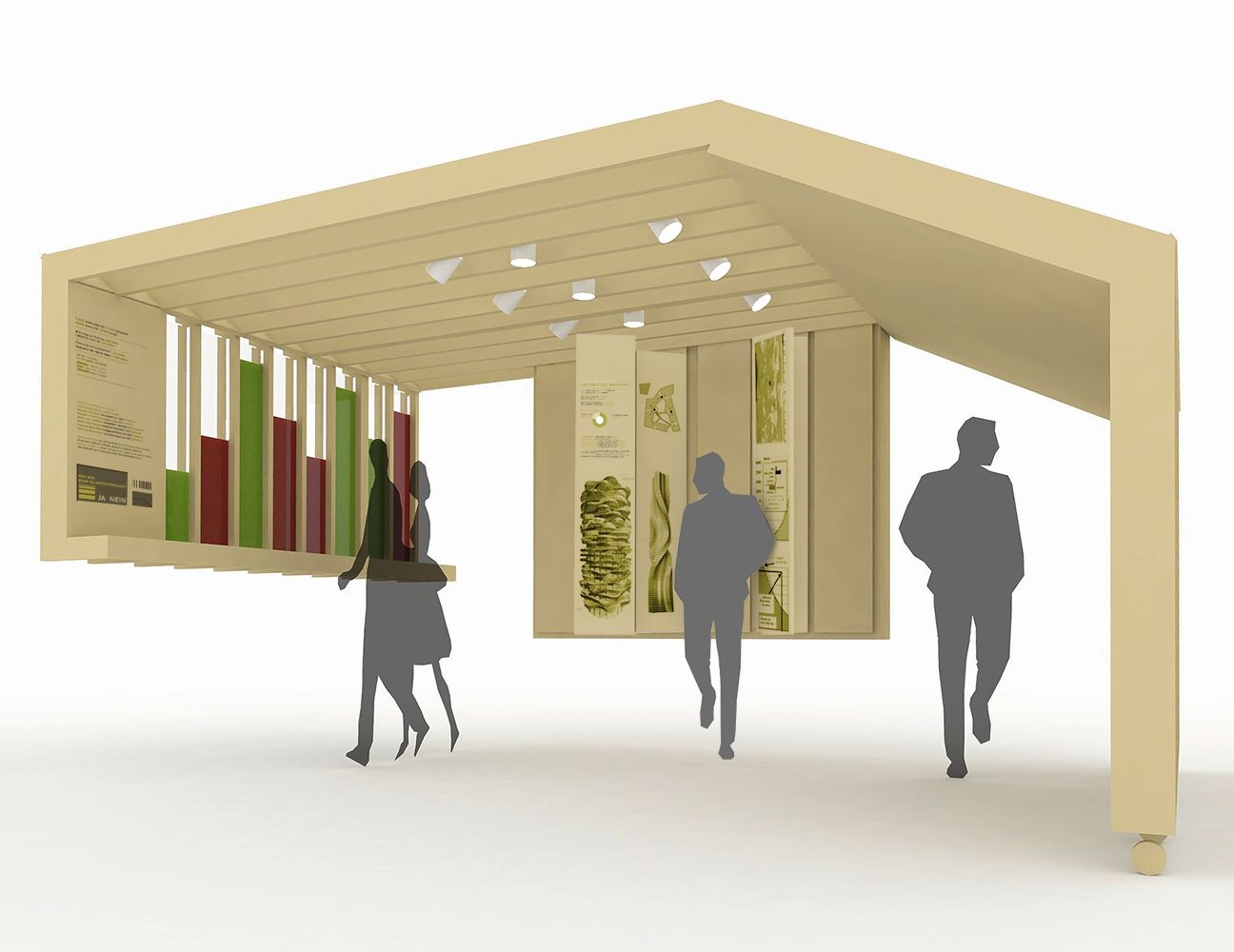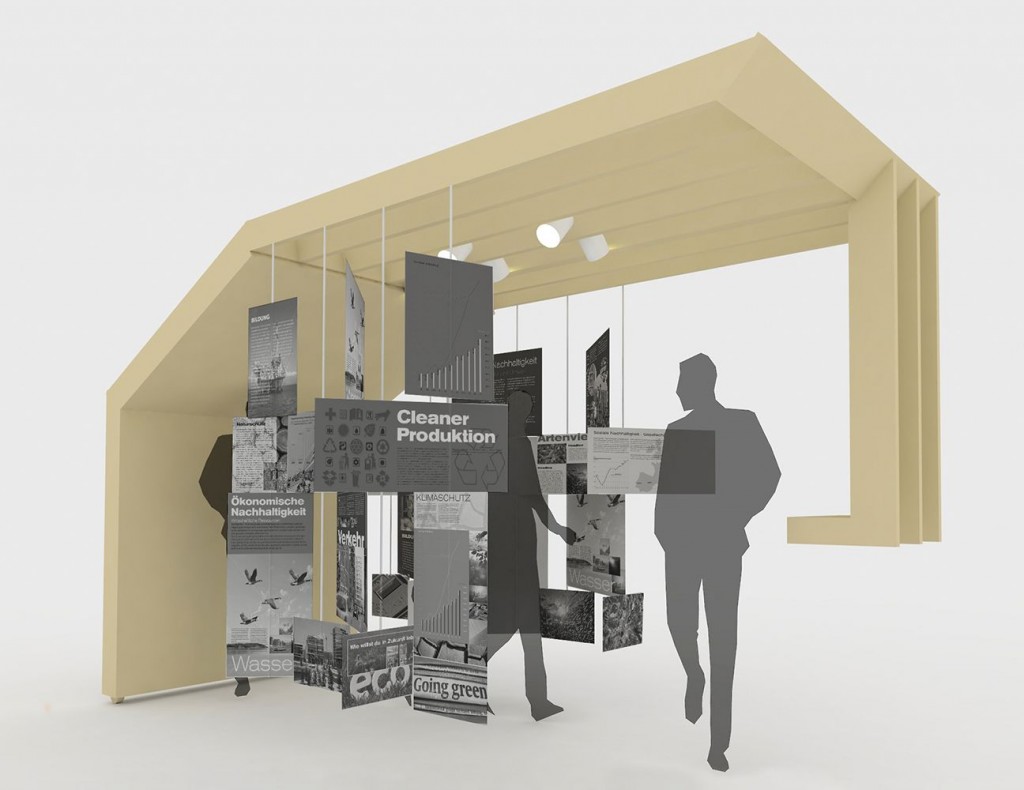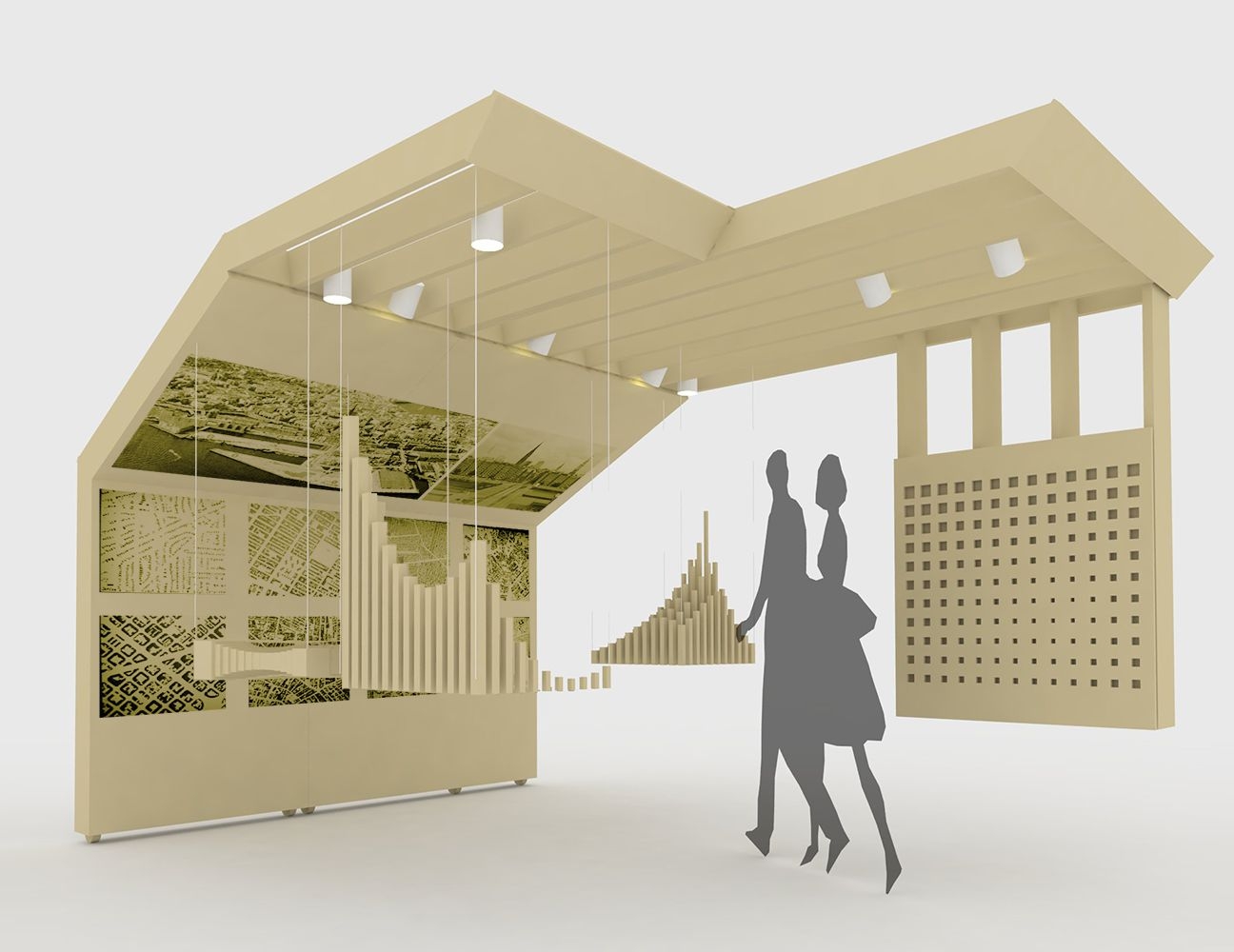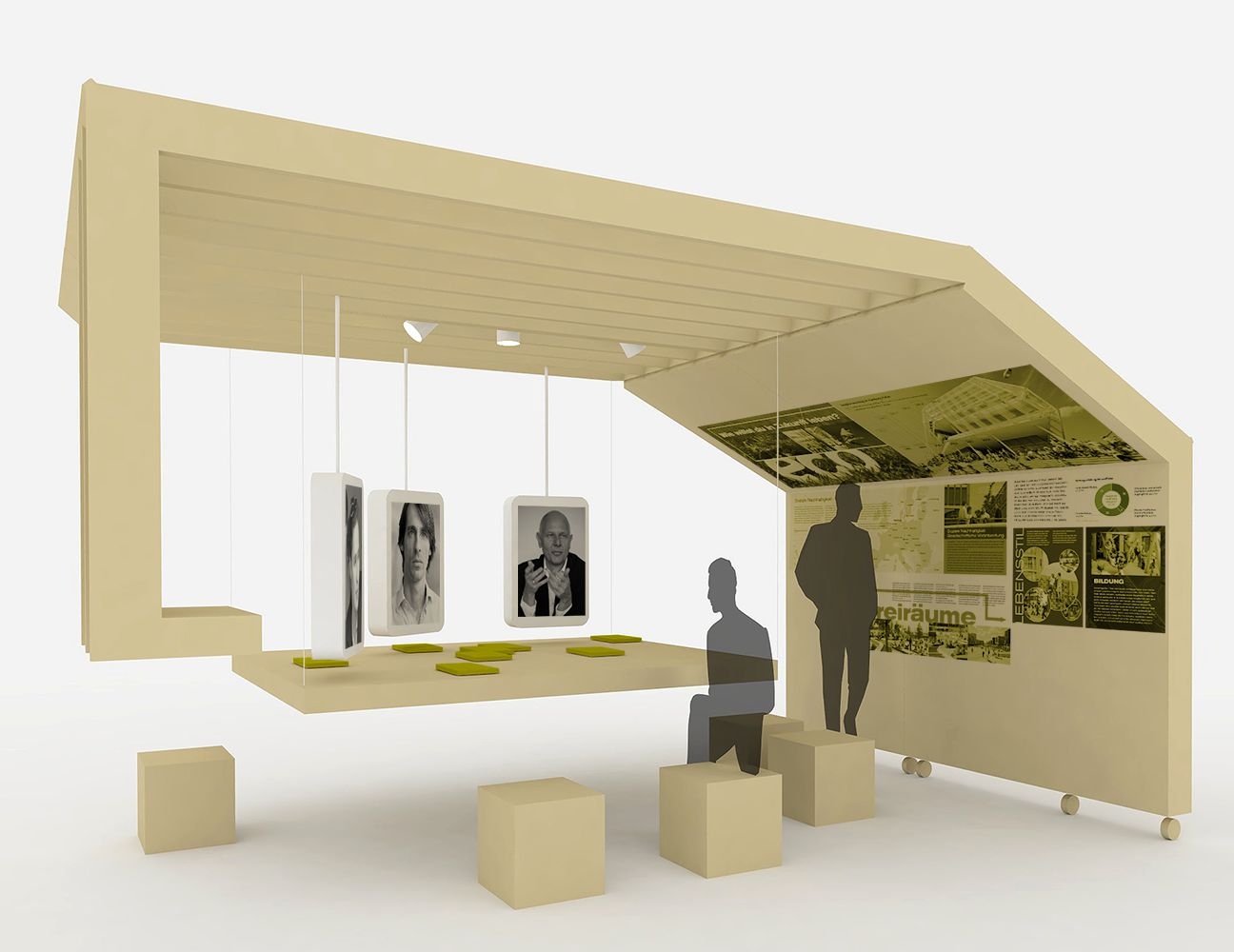 A guiding theme is the exhibitions minimal intervention. as a guest in an already existing structure, it is in our interest to not leave any burdens from the past behind. One is prepared for a situation where the exhibition might be moved to another location. The modules are independently constructed and can in the future be re-configured for use within or outside the context of the exhibition.
To give the exhibition the necessary visibility outwards, it required distinctive character. It is important to stress the issue of sustainability in public spaces.
The project picks up on the morphology of the facade and its characteristic stepped shape. A folded surface is extruded from the projected contour of the facade. A symbolic architecture, that marks the entrance as well as creating a urban street furniture pulled out of the facade and can be utilised in multiple ways.
Whether it is a beach chair or a pedal car that displays info about the exhibition as soon as the pedals go round, the exterior room of the exhibition turns into a lively space for interaction.
In cooperation with cwa – Christian Wittmeir